In recent days, long with work and absent time for being with photos, I enjoy every evening Carrie Elizabeth Thompson's ten photos.  As Alec Soth describes: "Carrie has taken on the ambitious task of posting 10 pictures a day of her life as an artist/mother. For those of us who struggle to be alert to the beauty, mystery and complexity of everyday life, Carrie's blog is an eye opener. Go here: http://carrielizabethompson.tumblr.com/
For me, Ms. Thompson's daily practice accomplishes two vital things:
i. Her daily intent provides context for the act of viewing.  I encounter hundreds - thousands - of beautiful, formally astute, complex or ecstatic photos online, but struggle to engage them.  In this image saturated environment, I find I need a scaffolding — a project, a narrative, an emotive journey — to find my way amid the image clutter.  In Ms. Thompson's work, we have the beautiful quotidian struggle for beauty and vision.
ii. Ms. Thompson's daily practice inspires me to remain present and sensate to the world. Curiously, my camera is a crutch against solipsism, narcissism, and rank instrumentalism.
In the photo above, we find Ms. Thompson acutely aware of photo history. Below, Walker Evans.
Penny Picture Display, Savannah, Georgia.. 1936.  By Walker Evans.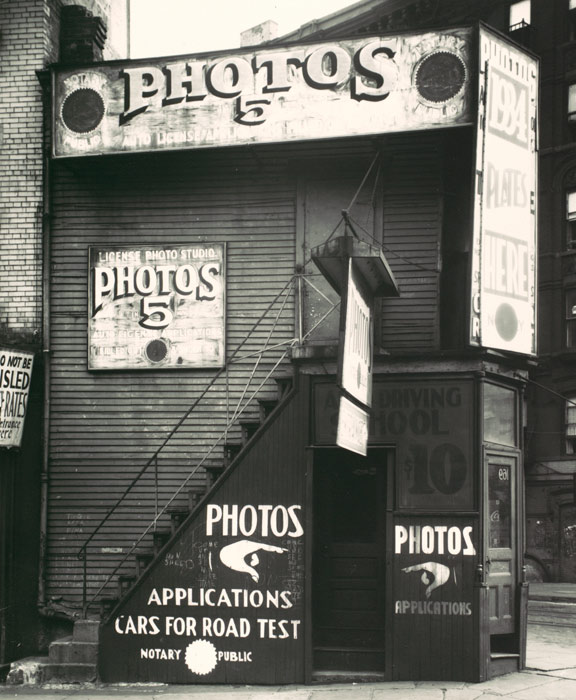 License Photo Studio, New York, 1934
Walker Evans (American, 1903–1975)
Gelatin silver print